Secure Email Communications
Easy and Secure Mobile Working for Corporate Employees!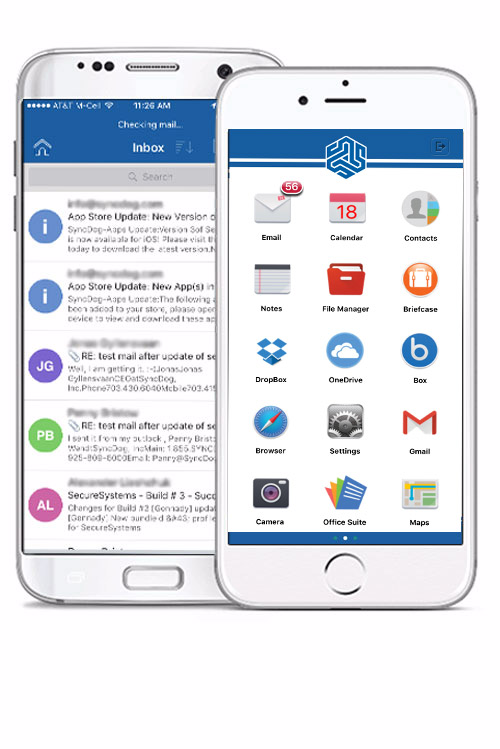 Email Client
Securely access your Microsoft Office365, Microsoft Exchange and Google email account in a self-contained workspace. Supports S/MIME, email attachments, links, and anti-virus scans
Contacts
Securely access your Microsoft Office365 and Microsoft Exchange contacts with local Global Address List (GAL). Your organization's GAL is stored on the device upon provisioning for off-line access as well as ease of use.
Calendar
Securely access your Microsoft Office365 and Microsoft Exchange calendar. Full support of month view, week view, day view, and agenda view
SyncDog recognizes companies need to flex in order to leverage talent over a diverse geography. Our solution provides a secure approach to an integrated workforce where an employees location and affiliation to the company no longer matters. A single instance of our Secure.Systems solution can be utilized across your mobile workforce as well as 3rd party contractors and consultants.
Although almost all companies today have employees who want or need the ability to work outside the 4 walls of the organization, the current mobile security solutions being utilized today still have them tethered to their laptop and office – They still utter the phrase "I'll get to that once I'm back at my desk" far too often.
Your employees should be able to do their work from wherever they are. SyncDog combines of a full suite of office applications (email, calendar, contacts, office editor, file share, location services, messaging etc) along with an architecture that protects and secures your mobile workforce through FIPS 140-2, AES 256 bit encryption that finally removes the technological struggle of having to choose between increased security or increased productivity. SyncDog enables you to have both.
SyncDog challenges the status quo and changes the game on how organizations empower their mobile workforce. We enable companies to reset expectations on how employees can get work done on the go. Come see for yourself with our free trial download of Secure.Systems by SyncDog.