Private App Store
SyncDog provides the management, security, and distribution capabilities that you need to launch a successful enterprise mobile app offering.
Cloud/SaaS
Deployable as a cloud-based managed service in a matter of minutes through Microsoft Azure or  
Secure.Systems™.
On-site
This deployment option offers customers a more hands-on approach to securing enterprise data and applications as they are accessed on employees' mobile devices.
Hybrid
Securely sandbox your unique combination of on-site enterprise applications and Microsoft SaaS solutions in our defense-grade, FIPS-compliant (Cert. #2687) container.
Private app store control, public app store feel
Our App Store is more than a basic tool for downloading applications. It follows a similar user experience as popular public app stores. Applications come with supporting information, screenshots, and reviews.
We offer clients all the management tools and insight necessary to scale up a secure, App Store-based delivery model for secure enterprise apps, both public and private. Our platform provides a foundation for projecting technology services to mobile devices without sacrificing security, user experience, performance, or ease of management.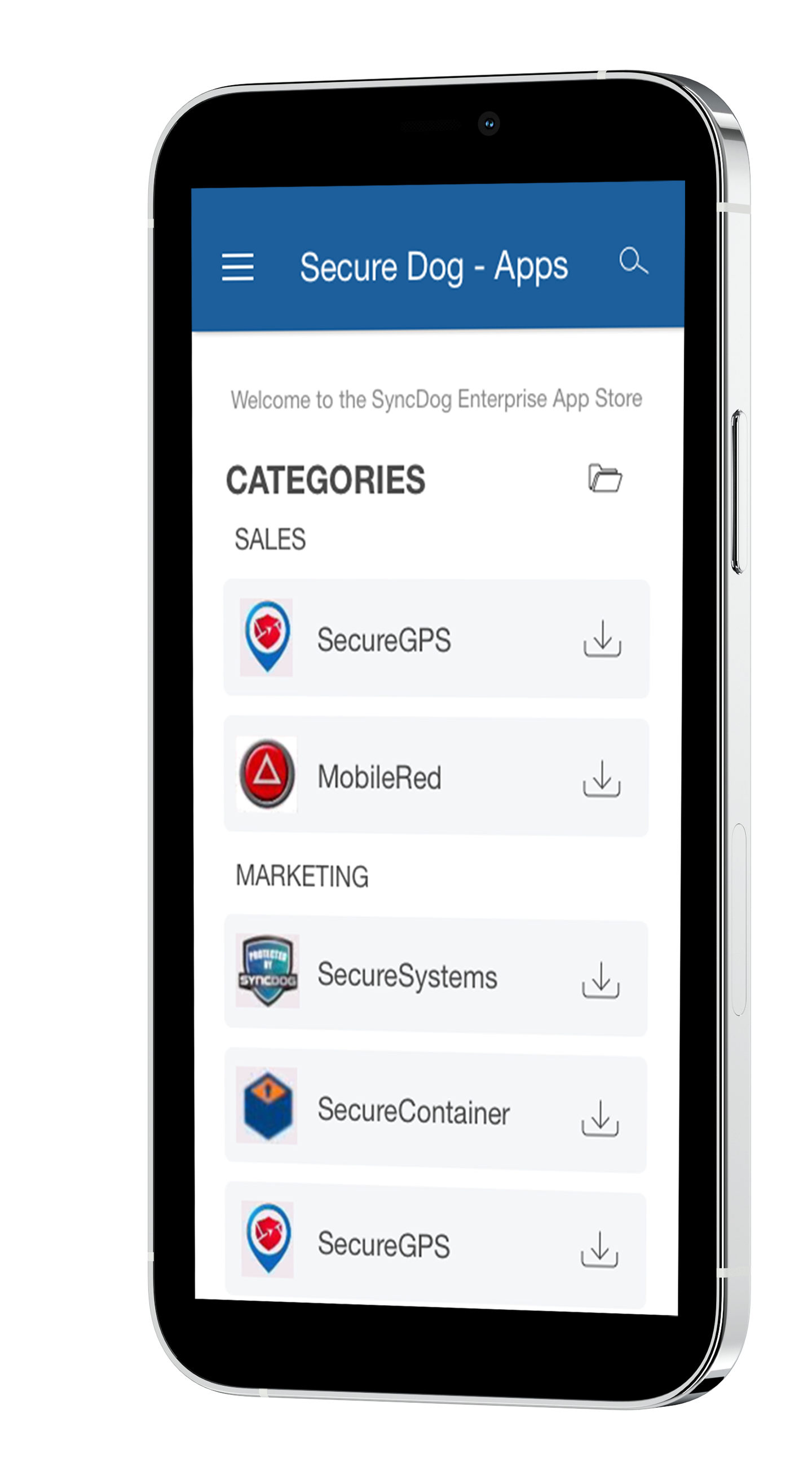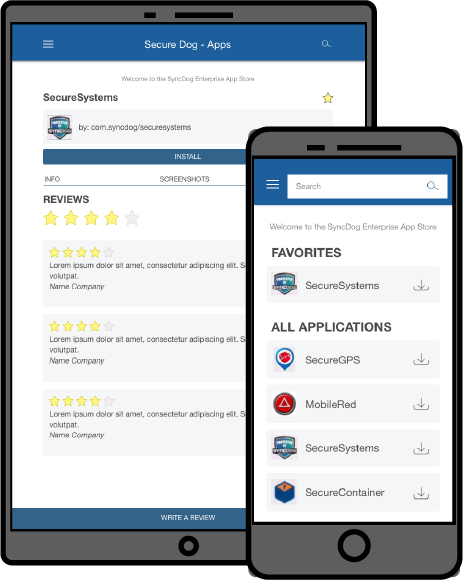 Seamless app distribution and management
App distribution, made easy
Simple app distribution and management of in-house and store apps for iOS, and Android.
Manage your app inventory
Manage app details and stay up to date with app licenses on mobile devices.
Run only enterprise-approved apps on the device
Manage and lock down devices to only run certain apps, or a set of selected apps.
Separate corporate apps from personal ones
Maintain secrutiy with your data on devices by separating company work profiles from personal profiles.
SyncDog is your seamless Enterprise Mobile Security Solution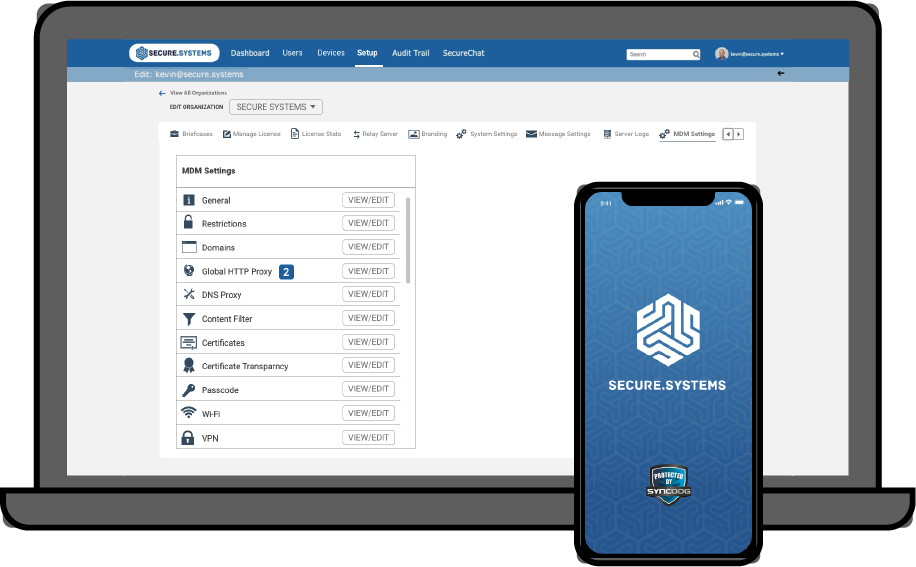 Mobile Device Management
We have a solid history dating back to the late-1990s of integrating best-in-class mobility solutions to enterprise network systems — before there ever were EMM solutions.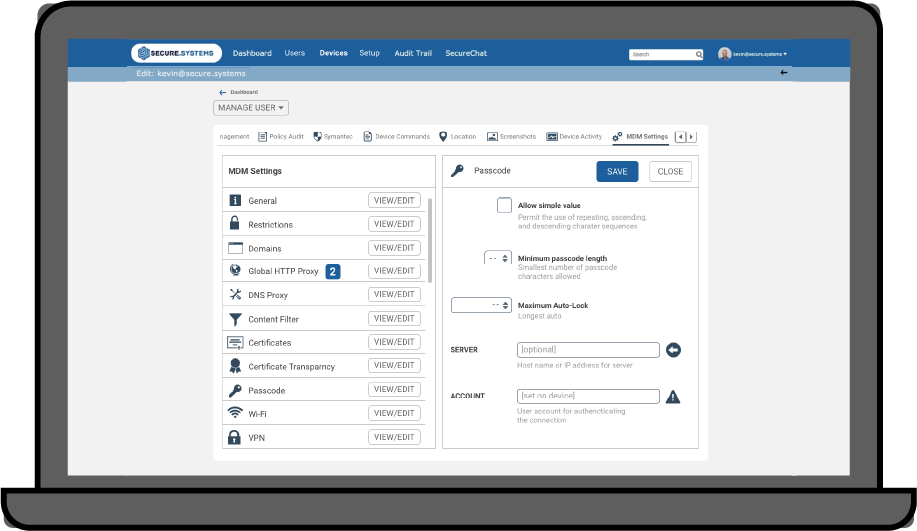 Containerization
Implementation involves using an open source virtual machine to create a separate container on your devices. With our custom encryption, we protect the virtual hard disk and transport it on the virtual machine.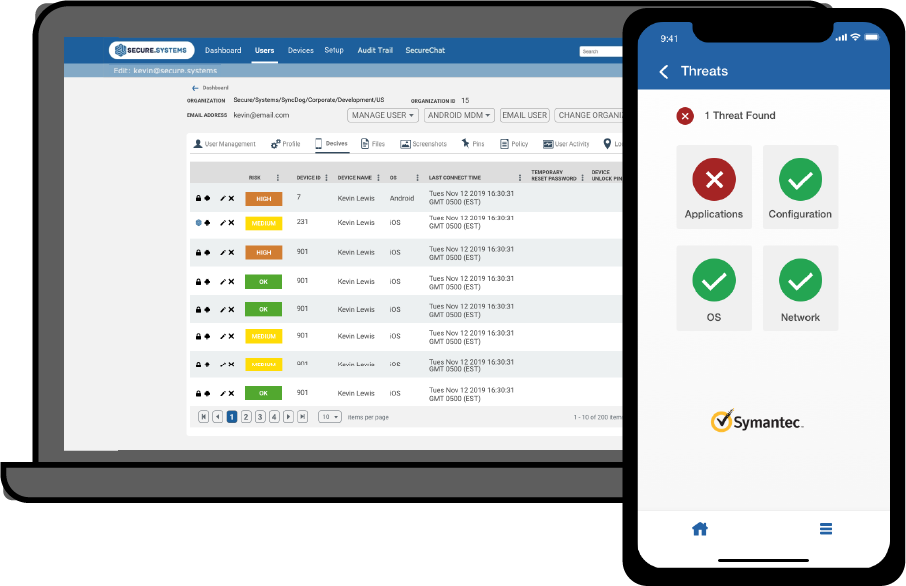 Mobile Threat Device
SyncDog offers an end-to-end solution for mobile enablement and security, keeping mobile workforces secure without inhibiting productivity outside of the office.
Get Started
Take control of your Enterprise Mobile Security. Get started with a free 30 day trial with us.