Industries We Serve – SyncDog Mobile Security
Easy and secure remote working solutions for small business employees!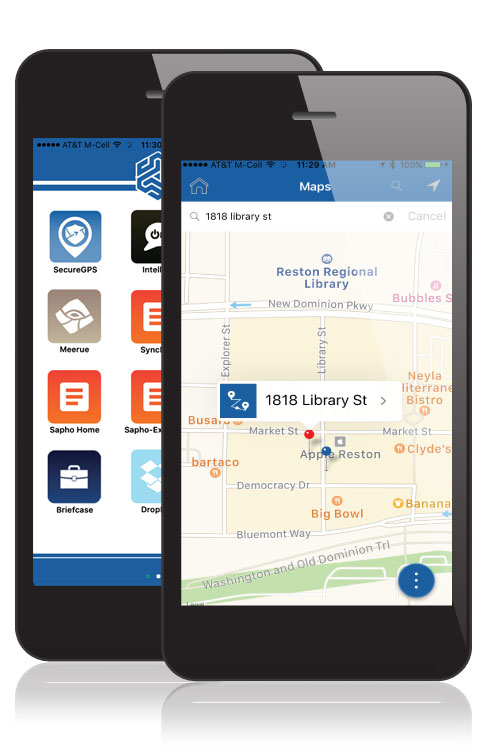 Securing Government and Healthcare IP for Remote Teams
Mobility has enabled remote employees and contractors to collaborate in real time outside the home office, but at the cost of escalated risk to sensitive secure IP. Without a proactive layer of security, mobile devices and applications represent the most vulnerable endpoints – and instances of mobile malware are on the rise.
Mobile Security vs. Functionality
From day one, mobile device design favored personal use and maximum interface functionality topped the priority list. Device and data protection consistently trailed behind, until recently, where overly-restrictive VPNs or EMMs have locked mobile devices down to the extent of unusability.
If functionality alone is far too risky and a total device lockdown cancels out the bottom-line benefits mobility promised to begin with, what can be done to both preserve end-user experience and secure mobile collaboration for teams working remotely?
Security Risks
While it's important that enterprise data can be accessed quickly from mobile devices, these devices are also increasingly targeted by hackers because of their limited security. Furthermore, mobile devices can be lost or stolen, and it is critical for companies to prevent the wrong people from accessing their data and other intellectual property. As long as employees have a need to conduct work business on personal devices, security risk will remain high.
The Secure.Systems™ Intune Workspace
SyncDog has been working with Microsoft to secure the Intune mobile experience with Secure.Systems™, now including support for Office Enterprise 365, SharePoint, OneDrive, Skype for Business, Notes, and other widely-used Microsoft products.
Secure.Systems™ Deployment Options
The Secure.Systems™ Intune Workspace is available for quick and easy deployment through the cloud, hybrid cloud, or via on-premise installation. Click here for more information about the best Secure.Systems™ deployment for your organization.
Container-Encrypted Security
Secure.Systems™ stores emails, contacts, calendars, notes, tasks, documents and the intranet on a smartphone or tablet (iOS and Android™) in a secure, encrypted Container area.
Simple, Easy Management
Administrators, employees and compliance managers all benefit from the easy management of Secure.Systems™. Privileged users can easily define the security rules within the app and also grant or deny corporate data access privileges on devices. If an employee leaves the company or a device is lost or stolen, corporate data inside the Secure.Systems™ container can be remotely erased without infringing upon the employee's personal data.