GDPA Information & Resources
Whitepaper Downloads
GDPR is Coming May 2018 – Are You Prepared for this Data Regulation?
The EU has pass legislation for securing its citizens' personal identity data – GDPR. Get the finer points of GDPR in this informative whitepaper from SyncDog. 
Data security standards have been around for decades yet standards enforcement has been lacking. This paper explains why the EU's General Data Protection Regulation, or GDPR, will change the playing field next year, what GDPR means for endpoint data management, and offer 5 tips to help maintain compliance. Are you/will you be prepared?
Learn more in this informative whitepaper titled "GDPR will bring the Teeth that have been Missing in Data Security Auditing and Compliance"
What you will learn from this whitepaper?
What is GDPR and why does it matter to me in the U.S.A.?
What are the main items in the regulation that will affect your organization?
How disruptive will the regulation be to non-EU organizations?
How do I prepare for this regulation?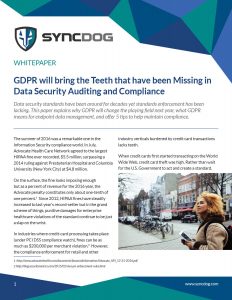 Contact Us Today for a Demo or Trial
SYNCDOG IN SUPPORT OF THE APPCONFIG COMMUNITY
SyncDog is now an AppConfig Community Member. Through the AppConfig Community,
SyncDog
is working to simplify enterprise application development and deployment within common standards provided by leading EMM providers. As part of the AppConfig Community, we have access to common framework components for VMware AirWatch and IBM MaaS360.