6 Things that will Accelerate Enterprise Mobile Security Adoption
Tips to Accelerate Mobile Security
Enterprise Mobile Security Adoption
BYOD Will be One of Your Biggest Threat Vectors in the Next 12 Months
E-commerce through mobile transactions will explode by 2020. Who's securing these transactions? End-point device security will be critical over the next 3-5 years. Are you prepared for it?
Enterprise IT managers and administrators are doing everything they can just to keep systems and critical enterprise applications up to service level agreements. Left on the back burner and opening the door to your enterprise for potentially catastrophic cyber-attack are mobile and IoT end-point devices, each one connected to the heart of your data and IP.
Key learning objectives:
The nature of the growth rate of mobility adoption, and where it's coming from
Why your mobile security is sabotaged by the status quo of current enterprise InfoSec initiatives
How enterprise-sized mobility software vendors are hurting the marketplace
6 accelerators for mobile security adoption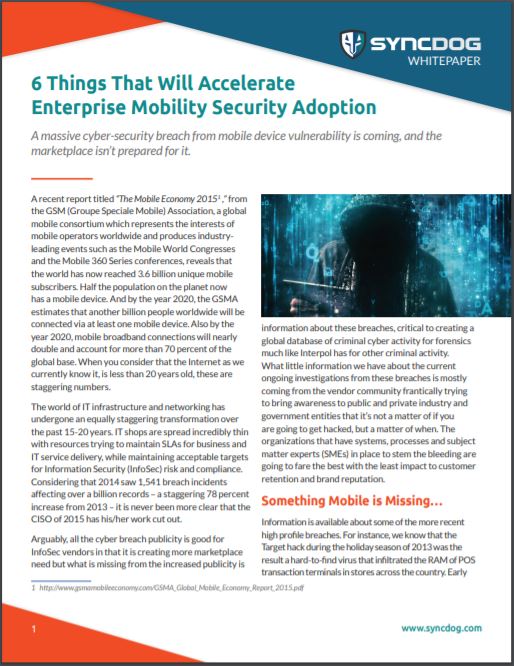 Contact Us Today for a Demo or Trial
SYNCDOG IN SUPPORT OF THE APPCONFIG COMMUNITY
SyncDog is now an AppConfig Community Member. Through the AppConfig Community,
SyncDog
is working to simplify enterprise application development and deployment within common standards provided by leading EMM providers. As part of the AppConfig Community, we have access to common framework components for VMware AirWatch and IBM MaaS360.